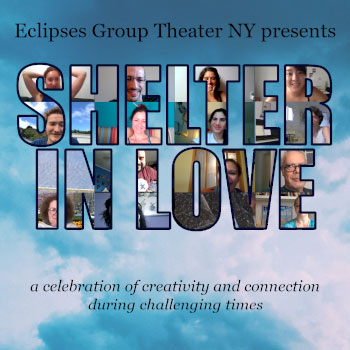 How does prolonged social isolation affect love and artistic creativity, which generally require direct human contact? Shelter in Love explores these themes, as the world rests in suspended animation.
Since May 2020, in the midst of the pandemic, a group of artists from different countries, cultures and artistic backgrounds have found shelter in love and creativity. Through regular, virtual meetings, we formed an artistic community, exchanging ideas and creating a trove of original, quarantine-inspired content that blends a broad variety of artistic disciplines.
We worked with limited means—no professional recording studios, expensive cameras, rich costumes, fancy shooting locations and so on—but an abundance of confidence in the power of artistic creativity to overcome obstacles.
What you see on this website is a work-in-progress presentation—the artistic fruits of more than 10,000 hours of collective work over 10 months—organized in six thematic groups. Our ultimate goal is a live, in-person presentation once theatrical performances resume.
There is no ticket, but we greatly encourage and appreciate donations, which will go entirely to the project's artists:
Katerina Alexaki, Costas Baltazanis, Sarah Bitar, Demetri Bonaros, Penny Fylaktaki, Marina Gkoumla, Dorothea Gloria, Ioanna Katsarou, Fritz Leonard, Handan Ozbilgin, Alexandra Skendrou, Chrysi Sylaidi, Marilena Triantafyllidou, Arturo Wong Sagel.
Project coordinators: Ioanna Katsarou, Handan Ozbilgin, Demetri Bonaros.
Click the "Start" button to view Shelter in Love.
We hope you enjoy the journey!
An exploration of the individual removed from society, as reflected in a series of journal entries by five different people before, during and after a pandemic-induced lockdown. Day 0 is the first day of lockdown.
Lead artists: Demetri Bonaros, Marina Gkoumla, Fritz Leonard, Arturo Wong Sagel
Paul's isolated self
Overall:
Creator - Fritz Leonard
Paul - Fritz Leonard
AI-faces - StyleGan2
Day: -13
Inspired by Marina Gkoumla
Day: -1
Text: Excerpt from "A Day from a Time of Proximity" by Sarah Bitar
Music: Excerpt from "Hitting Things" by Christoph Pingel and Sebastian Pingel
Day: 5
Video By Handan Ozbilgin
Day: 52
Text found by Marilena Triantafyllidou
special thanks to Wula Shea,
Day: 111
Text by William Shakespeare
Kaleidoscope by Alexandra Skendrou
Day: 274
Text by Søren Kierkegaard
Day: 365
Text by Sarah Bitar, performed by Carina Zox
LUCY 'S SEXUAL LIFE
Created & conceived by: Marina Gkoumla
Day: -5
Written by: Marina Gkoumla
Translated by: Demetris Bonaros
Song: "As erchosoun gia ligo", composed by: M. Sougioul, written by: M. Traiforos, orchestration by: Demetris Bonaros, singing by: Marina Gkoumla
Music by: "Tomorrow", www.bensound.com
Photos by: Marina Gkoumla
Day: 20
Written by: Marina Gkoumla
Performed by: Nikos Ortetzatos, Marina Gkoumla
Video editing: Marina Gkoumla
Camera by: Maria Rapanta
Song: "Ti se melei esenane" Minor Asia Folk song, singing by: Vocal Group Pleiades (http://pleiades.org.gr)
Music by: "Tomorrow", www.bensound.com
Photos by: Marina Gkoumla, https://www.pexels.com/
Day: 183
Written by: Marina Gkoumla
Sketches and Photos by: Marina Gkoumla
Video by: Marina Gkoumla
Music by: "Tomorrow", www.bensound.com
Day: 249
Poem by: Dorothea Gloria
Photos by: Marina Gkoumla
Music by: "Tomorrow", www.bensound.com
Day: 811
Written by: Ioanna Katsarou and Marina Gkoumla
based on NYC Health Department's announcement "Sex & Covid 19"
Performed by: Ioanna Katsarou
Video editing by: Fritz Leonard, Marina Gkoumla
Sketches by: Marina Gkoumla
Photos by: https://www.pexels.com/
Music by: "Smile", www.bensound.com
Day: 15,330
Performed by: Mairy Gkoumla
Song: "Maramena ta goulia ki oi violes", written and composed by Attik, singing by Katerina Alexaki
Video editing by: Polyvios Serdaris
Camera by: Efi Gkoumla
Photos by: Marina Gkoumla, https://www.pexels.com/
Easier This Way
Day: 7
Written, animated, narrated and scored by Demetri Bonaros
Benches
Day: 17,039
Written, animated and narrated by Demetri Bonaros
Additional video by Sarah Bitar
Music: "Flowers," "Balos" and "Thomas' Lament" by Demetri Bonaros
Sin Palabras
Day: 10,950
Performed by Miroslava Morales
Written & Directed by Arturo Wong Sagel
Espejorot Producciones
During our weekly meetings, we explored violence from numerous angles, from the domestic to the political. In the end, we came to the conclusion that the most severe type of violence is the one we are currently experiencing, unwillingly imprisoned in our shelters/homes yet unable to shut down the world outside. There is no escape from COVID-19, racism, the economic crisis, outlandish conspiracy theories and fabricated messages by corrupt leaders. Our homes are no longer a shelter; the outside world, which we so want to escape, reaches us through our computers, cell phones, TVs... we are enslaved to it.
Yet, alongside such dark expressions of violence, we also found hope and beauty: sunlight coming in through a window, the soothing voice of a lover, a story told by a child. We hope the presence of these moments in our projects will stand as the resistance against darkness.
Lead artists: Handan Ozbilgin & Dorothea Gloria
Finding shelter in love & lemons
Stories of virtual reality