Eclipses Group Theater New York presents Marriage à la Russe!, based on three acclaimed comedic one-act plays by Anton Chekhov (in Greek with English supertitles), November 4 – December 4, 2016, Hellenic Cultural Center: 27 – 09 Crescent St, Astoria, NY 11102.
Three hilarious stories in three different settings: rural Russia (1886, winter); Thessaly, central Greece (1966, summer); New York City (2016, fall). A merry-go-round of outrageous characters and situations, a farcical look at the battle of the sexes through space and time, and... a ubiquitous, omnipotent maid... Men and women fight till they fall … Will there be a wedding? What is a bear doing in a grieving widow's house? Which anniversary are we celebrating on November 4, 2016?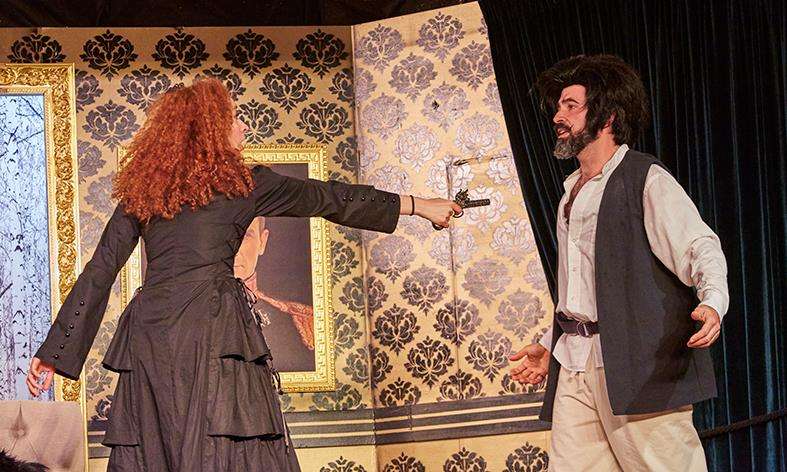 Anton Chekhov is a leading playwright of the late 19th and early 20th centuries and a seminal figure in modern theatre. These three comedic one-act plays—The Bear, The Proposal and The Anniversary—are among the most popular pieces in the contemporary dramatic repertoire.
Creative Team
Directors: Demetri Bonaros (The Bear), Ioanna Katsarou (The Proposal), Katerina Alexaki (The Anniversary)
Adaptation & additional performance Material: Ioanna Katsarou, Katerina Alexaki
Executive producer: Theodora Loukas
Set designer: Christos Alexandridis
Costume designer: Vivian Triviza
Graphic designer: Yannis Lolis
Photographer: Anastassios Mentis
Cast
Christos Alexandridis
Demetri Bonaros
Ioanna Katsarou
Theodora Loukas
Deodoros Pagoudis
Alexandra Skendrou