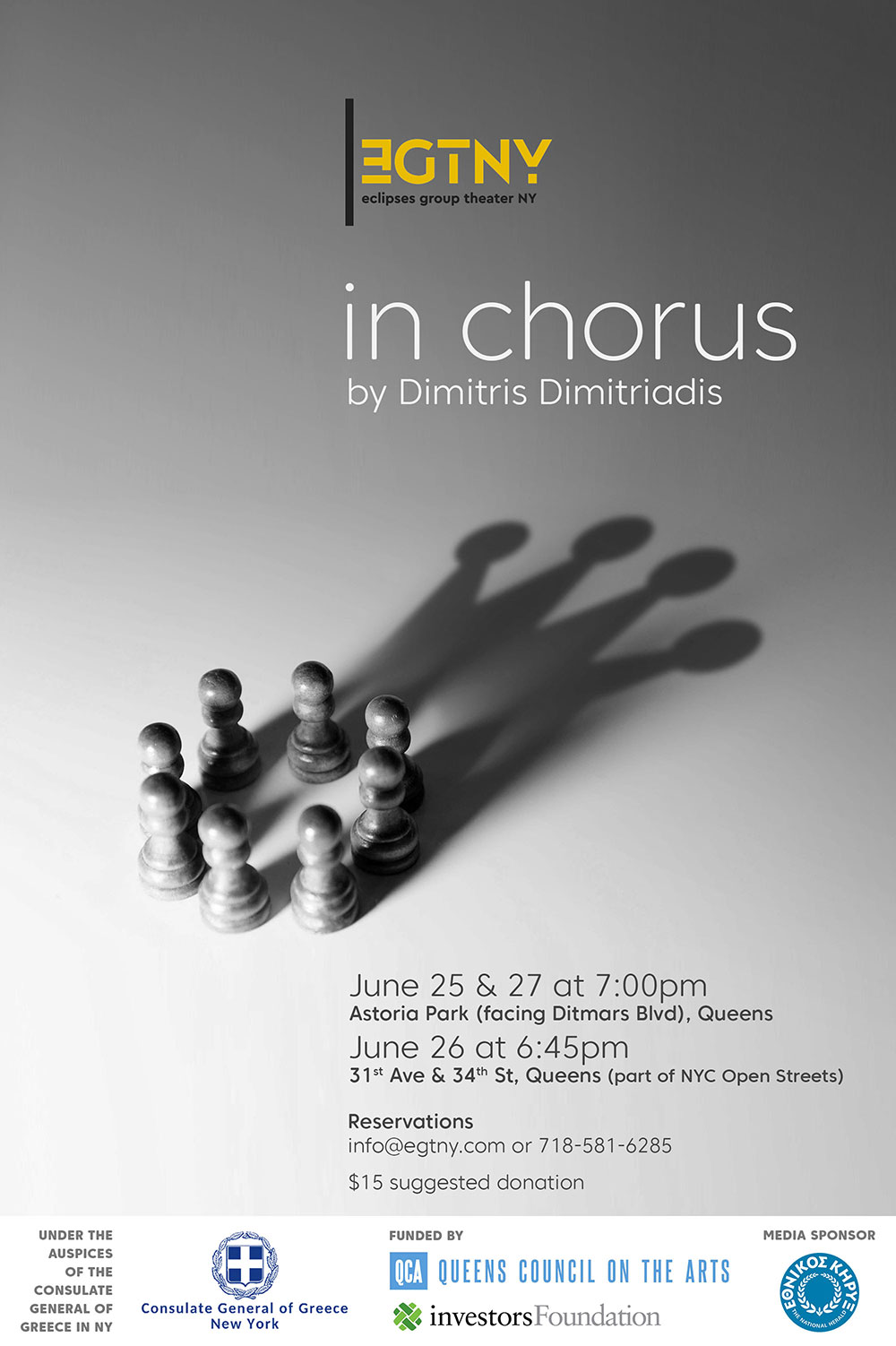 In Chorus by Dimitris Dimitriadis
Directed by Ioanna Katsarou. Original music by Kamala Sankaram.
World premiere, as part of the Greek Play Project New York 2021.
In Chorus is a new play by renowned Greek playwright Dimitris Dimitriadis (Greek National Literature Award), with live music composed by the acclaimed composer Kamala Sankaram (www.kamalasankaram.com) and directed by Eclipses Group Theater NY co-artistic director Ioanna Katsarou.
The play tracks the civic awakening of a previously passive Greek tragic chorus. A group of women and men are summoned to the palace, but they don't know why. The leaders are gone, and the gods are silent. In this political and existential void, the chorus members take action for the first time, redefining their roles as fully engaged members of the state and the stage.
$15 suggested donation
This project is made possible (in part) by the Queens Council on the Arts with public funds from the New York City Department of Cultural Affairs in partnership with the City Council; and
This project is made possible with funds from the Decentralization Program, a regrant program of the New York State Council on the Arts with the support of Governor Andrew Cuomo and the New York State Legislature and administered by the Queens Council on the Arts.
This project was funded by the Investors Foundation.
Under the Auspices and strong support of the Consulate General of Greece in New York.
Astoria Park (facing Ditmars Blvd), Queens
31st Ave & 34th St, Queens (part of NYC Open Streets)
Creative Team
Playwright: Dimitris Dimitriadis
Director: Ioanna Katsarou
Composer: Kamala Sankaram
Translator: Theodora Loukas
Costume and set designer: Marina Gkoumla
Music directors: Demetri Bonaros & Alexandra Skendrou
Executive producers: Demetri Bonaros, Ioanna Katsarou
Stage manager: Vasiliki Ioannou
Graphic Designer: Polyvios Serdaris
Social Media: Alexandra Skendrou
Photos-video: Anthoula Lelekidis
Cast
Demetri Bonaros
Erin Despanie
Anthoula Katsimatides
Mercedes Long
Alkis Sarantinos
Gabrielle Scott
Alexandra Skendrou
Chrysi Sylaidi
Lazaros Theodorakopoulos
Musicians
accordion: Mary Knapp
percussion: Thodoris Tsinias