Eclipses Group Theater NY finds its way back to the stage of world-renowned La MaMa theatre in Manhattan.

La MaMa presented four SOLD OUT performances of Aeschylus' Agamemnon, directed by Zishan Ugurlu, in Modern Greek, translated by the 2003 Greek National Literature Award recipient Mr. Dimitris Dimitriadis, and with English supertitles by Robert Fagles. The renowned jazz musician Costas Baltazanis composed and performed live music of the show.

La MaMa resident director Ms. Zishan Ugurlu explored a modern interpretation of the play through the lens of today's culture and politics. The audience had the unique opportunity to experience an Ancient Greek Tragedy performed by Greek actors in modern and ancient Greek with English supertitles.

The first play in Aeschylus' Oresteia trilogy, Agamemnon is one of the finest achievements of ancient greek drama and a masterpiece of world theatre. The play is a meditation on female revenge, sexual bleeding, male pomposity, self-consuming truth and a sense of justice.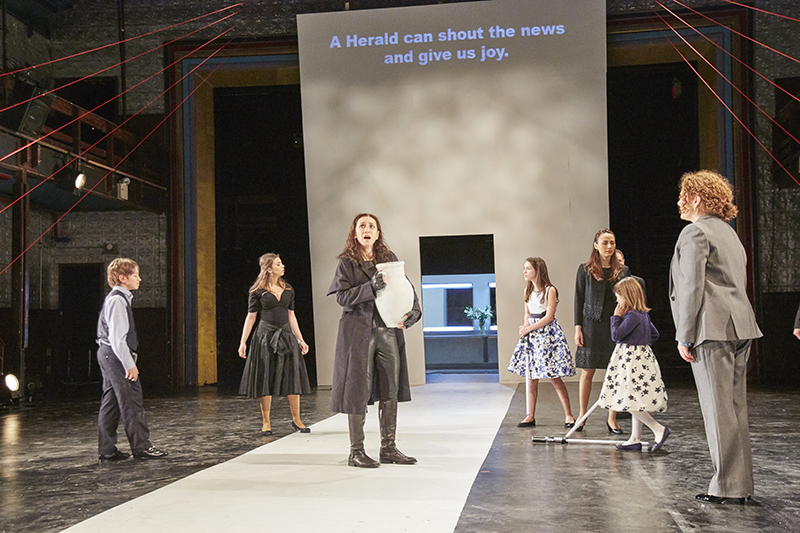 The narrative of provocation and premonition are incorporated into the production by the objective: "to trap the living fact alive."
Performed under the Auspices of the Greek Consulate General in New York and the A.S. Onassis Program in Hellenic Studies at New York University
February 18 – 20, 2016, at 7:30 pm, and February 21, 2016 at 4:00 pm
La MaMa – Ellen Stewart Theatre
66 East 4th Street
Between Bowery and 2nd Avenue
6 to Astor Place, F to 2nd Ave N, R to 8th street/ NYU
Creative Team
Director: Zishan Ugurlu
Greek Translation: Dimitris Dimitriadis
English Translation (supertitles): Robert Fagles
Dramaturgy: Demetri Bonaros
Set Design: Arnulfo Maldonado
Costume Design: Oana Botez
Lighting Design: Alejandro Fajardo
Music & Sound Design/Musician: Costas Baltazanis
Production Manager: Katerina Zoupanou
Production: Antonis Armeftis, Dimitris Bozinis, Ioanna Katsarou, Theodora Loukas, Zishan Ugurlu
Production Assistant: Alexandra Skendrou
Cast
Clytemnestra: Theodora Lukas
Cassandra: Ioanna Katsarou
Agamemnon: Fotis Batzas
Messenger: Martha Tompoulidou
Aegisthus: Christos Alexadridis
Guard: Phytos Stratis
Young Guard: Manolis Lambrakis
Chorus: Katerina Alexaki, Demetri Bonaros, Deodoros Pagoudis, Kristina Siapkara, Phytos Stratis, Elena Paloumbis, Manolis Lambrakis, Olga Latoussakis, Iphigenia Petra.